Stay at one of these fantastic cabins in Washington State and immerse yourself in the heart of the Pacific Northwest. Our selection comprises a broad range of cabin rentals that cater to every type of adventurer, embodying the region's famous natural splendor. Our handpicked lodgings range from quiet mountain getaways ideal for a romantic break to spectacular Washington Coast Cabins with panoramic Pacific Ocean views.
These cottages in Washington State are the pinnacle of glamping in Washington, providing a unique blend of luxury and nature. They're an excellent alternative for lone travelers looking for peace and quiet, couples looking for a romantic getaway, or families looking for a revitalizing break in the great outdoors. Don't forget that Washington's stunning vistas are equally enticing in the winter, creating a magical backdrop for a winter glamping adventure.
If you're looking for a little different vacation experience, consider looking through our collection of Tiny Homes in Washington. These alternatives, which are equally enchanting and nestled among nature's wealth, promise a charming and memorable stay in the evergreen state. Start planning your Pacific Northwest journey today by exploring the greatest cabins in Washington State!
Looking for more Washington Glamping Articles?
Leavenworth Cabins for a Bavarian Getaway
---
Our List of Unique Cabins in Washington State
---
Location: Easton, Washington
Experience an unforgettable stay at the Mountain Tower Cabin, a one-of-a-kind property set in the heart of the Cascades and just steps from Lake Kachess. This interesting 5-story tower, situated on a private 4+ acre land, offers breathtaking views of the Cascades and Lake Kachess. As you climb 55 feet into the treetops, you'll be immersed in an unparalleled panoramic experience. This one-of-a-kind cabin, meticulously crafted, encourages you to relax in its many welcoming nooks.
The five levels of the tower, including a basement and a loft, provide flexibility and variety to your stay. The newly renovated kitchen and living area have been built for maximum functionality and, of course, to take advantage of the stunning views. Throughout the cabin, you'll find new bathrooms and inviting, cozy places.
You'll find it easy to escape from the world and immerse yourself in the tower's peacefulness, whether you're sitting in the huge window seat watching the sunset, viewing hawks soaring over your window, or spotting deer grazing in the meadow below. This property is one-of-a-kind in every way, enticing you to explore and enjoy its distinct beauty.
The kitchen is completely equipped with all modern appliances, so you can prepare a meal while admiring the view. A pleasant fireplace adds warmth and atmosphere to the living area, which is framed by lovely pine walls. The indoor shower and complete bathroom feature intricate tile work. The staircase, which was intended to maximize space, is a work of art in and of itself, more pleasant and easier to manage than any ladder or stairs found in most tiny homes.
A comfortable queen futon bed and a convertible chair-to-twin-bed allow adaptable sleeping configurations on the upper floor. You can lounge and watch movies in the loft while hung high above the dining room, beneath a skylight that provides a view straight up the tall trees and into the sky. The main bedroom has a queen bed and plenty of storage space, so you can wake up to an amazing view from your pillow.
The main bath with shower is located on the main floor, which also serves as the primary entrance. For your convenience, the basement level includes more storage, another twin murphy bed, and a washing and dryer.
Set out on an excursion to the Mountain Tower Cabin and discover the remarkable in the midst of nature's magnificence.
Location: Redmond, Washington
This gorgeous treehouse featured on Treehouse Masters, nestled on a lush 30-acre woodland property, offers an exquisite getaway just 10 minutes from Redmond. Pete Nelson skilfully built the magnificent cabin in 2017 and it captivates with its shining hardwood interior, floor-to-ceiling windows, and open, natural light-filled room. The treehouse has an open-plan room with a queen bed, a reclining couch, and a loft with a twin bunk bed.
Among the amenities available to guests are an outdoor hot shower, Wi-Fi, a 100-inch screen/projector, and a hot tub. The cabin includes a kitchenette with a mini-fridge, microwave, and Keurig machine, as well as a cafe dining table. A complementary continental breakfast is brought by zipline 150 feet from the main house.
There are numerous entertainment options available, including full cable TV, Netflix, Amazon, and Hulu, which can be seen on the 100″ drop-down screen and HD projector. The treehouse also has access to a large terrace and crow's nest, which provide spectacular views of a private nature preserve pond as well as the chance to see local animals such as blue herons, frogs, and beavers. Depending on availability, guests may also visit the neighboring Emerald Forest and Theater. Please keep in mind that ziplines to the Emerald woodland and usage of the woodland theater/projector are not included in the treehouse stay.
Location: Clinton, Washington
The Hidden Haven, tucked away in the calm surroundings of Whidbey Island, is a charming 2-bedroom, 2-bath A-Frame cottage that comfortably sleeps 4. This cabin, which is always evolving, exudes charm and love from every DIY-crafted nook. The home is set in a tree-lined, 7,000-square-foot lot and offers a sense of tranquil privacy.
The cottage has a fully equipped, open-concept kitchen that was completely remodeled in 2016. It comes with everything needed to make and serve a delicious meal, making it ideal for those who enjoy cooking. The dining room comfortably seats four people and may be expanded to fit up to eight people with sufficient notice. The living room, which is warmed by a wood-burning stove, is a nice gathering place with games, books, a Bluetooth speaker, and high-speed Wi-Fi for entertainment.
The master bedroom loft offers a queen bed and its own little bathroom, as well as wonderful treehouse-like vistas. A second bedroom on the ground level offers comfy, L-shaped twin bunk beds and a newly redone bathroom with a spa-style shower. Outdoor amenities include a sundeck, a year-round BBQ, and an outdoor dining area that seats up to eight people.
The Clinton Ferry is only a 10-15 minute drive away, and Downtown Langley is only a 15-20 minute drive away. Maxwelton Beach is about 1.5 miles away, and the major attractions of South Whidbey are only 20 minutes distant. The Hidden Haven promises a unique and enjoyable visit, whether it's a family holiday or a romantic break.
Location: Sedro Woolley, Washington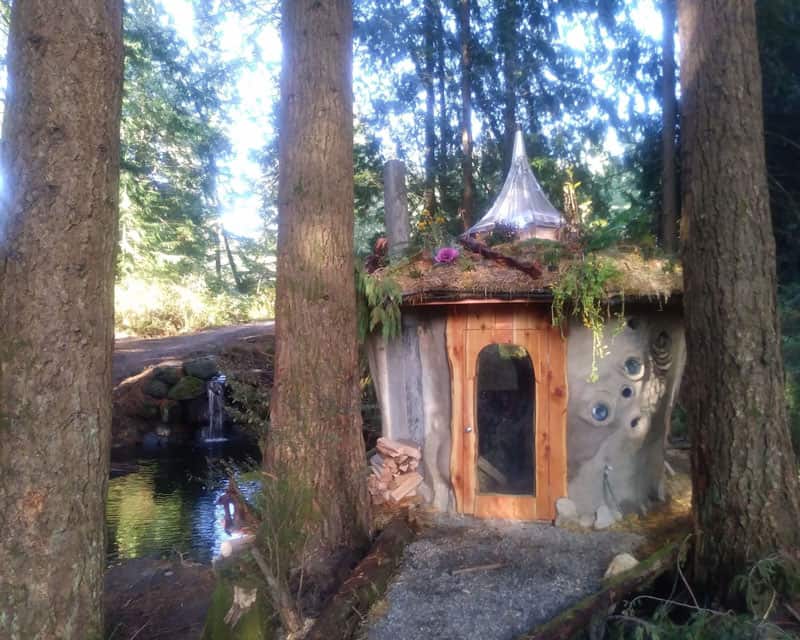 The SunRay Shire, a one-of-a-kind refuge developed by the creative SunRay Kelley and Bonnie Howard, has been featured on MTV Cribs, the Home and Garden Channel, and Lloyd Kahn's books. The property, which is only 10 to 15 minutes from Sedro Woolley and Mount Vernon, offers a serene country ambiance while remaining close to metropolitan services.
This rough paradise, spread across nine acres, provides mountain views, walking trails, an apple orchard, and numerous instances of handcrafted, sculptural buildings and constructions. The Stump House and Mush Room offer lodging among a cluster of enormous fir and cedar trees, each overlooking a different trout pond. From November to April, these lovely cabins have electricity, a cold water faucet, a tea station, and wood-fired heat complemented by an electric heater.
A shared outdoor composting toilet, an outdoor shower, and a bathhouse are available to guests. The property also includes a lovely outdoor kitchen nestled in the apple orchard for communal use. The parking area is a significant distance from the cottages, and the journey entails walking down an earthen trail, so this retreat does require a certain amount of mobility.
Although the SunRay Shire's rustic atmosphere may not appeal to everyone, it is an ideal vacation for individuals looking to unplug and reconnect with nature amidst imaginative sculptures. It's a spot where the trees of Northwestern Washington's Cultus Mountain may nurture both your body and soul. Guests are urged to indicate their arrival timings to ensure a nice, fire-warmed cabin upon arrival for a comfortable winter stay.
Location: Ashford, Washington
This modern A-frame cabin, hidden in the center of a forested wonderland near Ashford, is a true jewel for tourists looking for a peaceful retreat. The cottage is near to Mount Rainier and a stone's throw from the Nisqually River, making it an ideal site for wildlife lovers.
The inside of the cabin combines rustic charm with modern conveniences. After a day of hiking in the national park, guests can relax by the wood heater, enjoy a movie, or simply absorb in the peace and quiet. Wi-Fi is available throughout the cabin, ensuring connectivity for those who require it.
This A-frame cabin has become a favorite location for photo shoots and elopements. While the cabin is originally intended as a romantic getaway for two, it can also be reserved for special occasions with prior notice and pricing arrangements with the hosts.
The cabin features a fully equipped kitchen with a refrigerator, stovetop, microwave, and all essential equipment and utensils. There is a shower and a hairdryer in the bathroom. The guestroom has a smart television for amusement, as well as a DVD player, coffee/tea maker, and an iron with a board. Overall, it's a charming getaway that offers the best of both worlds: modern conveniences in the middle of unspoilt nature.
Location: Ashford, Washington
This freshly constructed cottage in Ashford's Paradise Estates offers an enticing blend of rustic charm and top-tier conveniences. It is a great refuge for anyone wanting the peacefulness of nature and the comforts of modern living, and is just approximately five minutes from the park's Nisqually entrance.
Tye and Erika's labor of love began with a concept in a magazine, then evolved into blueprints, and finally took shape as a gorgeous, concrete reality. They built the cabin jointly, which put their relationship to the test and eventually strengthened it. This refuge was created with a lot of hard work, commitment, and love, and they are quite proud of it.
One of the cabin's attractions is the huge wrap-around deck, which is encircled by towering Douglas Fir trees. It has a propane grill and an outdoor dining space, so guests may enjoy barbecued meals in the midst of nature. There's also an outside fire pit, which is ideal for gathering around a fire, toasting marshmallows, or sipping a bottle of wine under the stars.
The cabin's interior features a nice living area with a down-filled couch, ideal for relaxing into after a day of activity. A propane fireplace adds to the warm and welcoming ambience, giving it the ideal location to unwind. A 55-inch television with Netflix access is offered for movie nights. For some old-fashioned pleasure, guests can also play board games like Scrabble, backgammon, and cribbage.
Snowshoes are available for guests who want to explore the snow-covered surrounds. Whether you're a first-time snowshoer or an experienced one, all you need are waterproof hiking boots and a sense of adventure.
In essence, this cabin is a haven that provides all of the necessities and nothing extraneous, providing a comfortable and unforgettable stay close to nature.
Location: Baring, Washington
Discover the epitome of peace and seclusion at Harmony Lodge, a riverside cabin ensconced within 50 privately owned acres of pristine wilderness. This haven of tranquillity, often likened to Shangri-La, is the perfect retreat to refresh your senses and soul, offering complete privacy without neighbors or public roads. A beautiful locale, worthy of the silver screen, it's your ideal gateway near Stevens Pass.
The cabin boasts an outdoor hot tub on a deck with a breathtaking view of the river, forest, and the majestic Mt. Index. Gather around the riverside firepit, or relax in the hammock by the water's edge. Harmony Lodge offers modern conveniences amidst this stunning natural setting. You'll find a fully equipped kitchen, propane BBQ (with propane provided), electric heat, and charming wood-burning fireplaces (with firewood provided).
For entertainment, the lodge offers unlimited Wi-Fi, a music system, a landline telephone, a flat-screen TV, and a Blu-ray/DVD player. The bathroom includes body soaps, towels, and a hairdryer for your convenience. Although you may feel a world away, a restaurant is just a 10-minute drive if you wish to dine out.
Designed in 1929 by a renowned architect as a hunting lodge for senators, Harmony Lodge served this purpose until the 1960s. Subsequent owners have preserved this exquisite facility and land, now offering you a unique opportunity to share in its history and beauty.
The property spans across the mountainsides and through the valley, enveloping over 2000 feet of Index Creek that cascades over river boulders. The panorama from the deck and the floor-to-ceiling windows capture the splendor of the forested valley, sparkling waterfalls, towering mountains, and the expansive sky. The deck, positioned above the river, offers comfortable seating, a picnic table, and a propane BBQ.
Discover private trails on the property leading to waterfalls and intimate coves at the water's edge. Your dogs are welcome and are sure to revel in the freedom of the trail. Dive into swimming holes, fish for trout, or simply enjoy the sight of salmon bravely swimming upstream. The nearby Skykomish River also offers opportunities for fishing, boating, swimming, and shoreline walks.
Harmony Lodge offers 1000 square feet of living space, providing ample room to stretch out and relax. The main bedroom features antique furniture and a cozy queen-size bed with an intricate scrolled post frame overlooking the creek, mountains, and sky. The spacious 325 square-foot great room has two couches that fold out to double beds with deluxe mattresses, and a chair that converts into a child bed. A teak room divider provides added privacy.
Location: Sequim, Washington
This quaint cottage home sits on a natural saltwater lagoon by the Straits of Juan De Fuca and is surrounded by 190 acres of private farmland. As the cabin is on the Olympic Peninsula it is a blissful refuge for nature lovers, it is home to various bird species and animals, making it great for avid birdwatchers. There's a lot of eagles, Great Blue Herons, otters, and seals. In addition, the lagoon is a wonderful place to kayak so feel free to bring along your equipment.
The two-bedroom property has all modern features including running water, space for five and a beautiful outdoor glasshouse overlooking the lake. Step outside and you are greeted with views over the Straits, Mount Baker and Protection Island as far as the eye can see.
Location: Packwood, Washington
The perfect mountain getaway begins at this cute cabin. Hiding in a midst of rhododendrons, cedar trees, ferns and 60 acres of Gifford Pinchot Forest, the Mount Rainier Chipmunk Cabin offers guests all the privacy in the world.
The two-bedroom cabin holds four beds and sleeps up to six. The insides are plenty spacious with enough space for the whole family and include all amenities one could expect at a luxury hotel.
The scene is equally picturesque outdoors with a 7-person hot tub, a BBQ grill, farmhouse-style picnic table and a fire pit to stay warm and ensure you can truly enjoy the scenery.
If you are bringing your pets, do not forget that the High Valley Community regulations require pets on a leash at all times.
Location: Freeland, Washington
Ideal for a getaway with loved ones, this chilled-out wooden cabin retreat comes with all you need to forget the city and the rest of society. A well-equipped kitchen comes standard so does a furnished front porch that invites you out for a serene morning coffee. And there is a Nintendo Wii for some fun-filled family moments. The rest of the interior décor, made out of wood, ties up the overall rustic vibe.
While the kitchen has all you need to whip a great meal, the nearby beachfront holds some terrific bars and restaurants just a few miles away.
Location: Eastsound, Washington
Perched up high over Eastsound in the beautiful Eagle Ridge on Buck Mountain, this guest house is a showcase for everything Washington is known for. There are stunning views over Washington's striking natural landscape, spectacular sunsets, hikes through lush farmlands, kayaking in crystal clear waters and vibrant cycling tracks – all a couple of miles away from the cabin.
The one-bedroom guest room is best for two adults but you can squeeze in one more with prior notice. With all the modern essentials including Wi-Fi, a hot tub and laundry facilities, a secluded stay of luxury beckons.
Location: Big Lake, Washington
With a beautiful patio overlooking inviting waters, a hot tub to boot and five acres of private land between you and civilization, discover the perfect getaway at this cabin by the pond. The surrounding grounds are well-manicured so while it is not as rustic as you may have hoped for, it offers a clear, well-rounded experience that is still one with nature.
The pond's good for fishing or a bout of swimming – there is a fire pit to warm yourself afterward. The cabin is home to a single bedroom but with a total of three beds, it can comfortably sleep up to four.
Location: Index, Washington
Enjoy a romantic escape melded with complete relaxation at this two-story chalet. The loft offers spectacular views over the river and surrounding mountains. In addition, plenty of windows and open spaces let you gaze into the beautiful scenery from just about every point in the property.
From roasting marshmallows by the fire to hiking by the riverbank and soaking up in the 6-person spa. And with space for four and a cozy fireplace, a stay here is sure to be treasured.
Location: Hoodsport, Washington
Fishing, kayaking, or relaxation with ocean views – this beautifully restored cottage is the beachside escape you have always dreamt of.
The studio-sized unit features an antique cedar interior complete with a unique pebble floored bathroom and walk-in shower. Beautiful views of the sea await in every corner while a variety of amenities including BBQ grills, outdoor furniture and a fire pit ensure there's a lot to try and do with your loved one.
The property sits on a cove. Private and friendly, it's great for a bit of kayaking. If you don't have the equipment for it, there's a nearby spot to rent from. Moreover, there is a boat launch just 10 minutes away.
Location: Leavenworth, Washington
Cozy, comfortable and with space for two, the vintage Trout Shack sits a mere 20 feet from the Wenatchee River – the feeling of falling asleep to the roar of a gushing river is unlike any.
Although renovated to modern standards, the cabin still retains its rustic charm. At the front of the cabin is a gas BBQ overlooking the river. Also nearby is a swimming hole for when the afternoons get too hot and there is a hammock to enjoy some sunshine.
Meanwhile, guests can explore the Kahler Glen Golf & Ski Resort, Plain Valley Nordic Trails or Nason Ridge Trailhead, all just a few miles away from this quaint cabin.
Location: Grayland, Washington
Unobstructed ocean views, a private bath to the beach and modern amenities like Wi-Fi make this cabin ideal for a seaside escape. The stunning oceanfront property sits next to miles of untouched coastline and a private patio with comfortable seating offers uninterrupted views of the scene.
The rental spans two floors with a large master bedroom complete with an ensuite bathroom and a half bath. Although best suited for two adults, the convertible day bed can squeeze in one adult or two kids.
Location: Chelan, Washington
Enjoy a peaceful waterfront vacation at this lovely cabin on Lake Chelan. With its own private dock and turquoise waters just a few feet from the door, it's a scene right out of a novel. A spacious deck ensures relaxation comes naturally and there's a shallow swimming area.
Indoors, the cabin is very modern and you won't be missing any of your homely conveniences. There are four beds in total with space for four people – perfect for a family getaway! Nearby attractions are aplenty including the Pot Peak Trailhead, Twenty-Five Mile Creek State Park and Wapato Lake.
---
Share Cabins in Washington on Social Media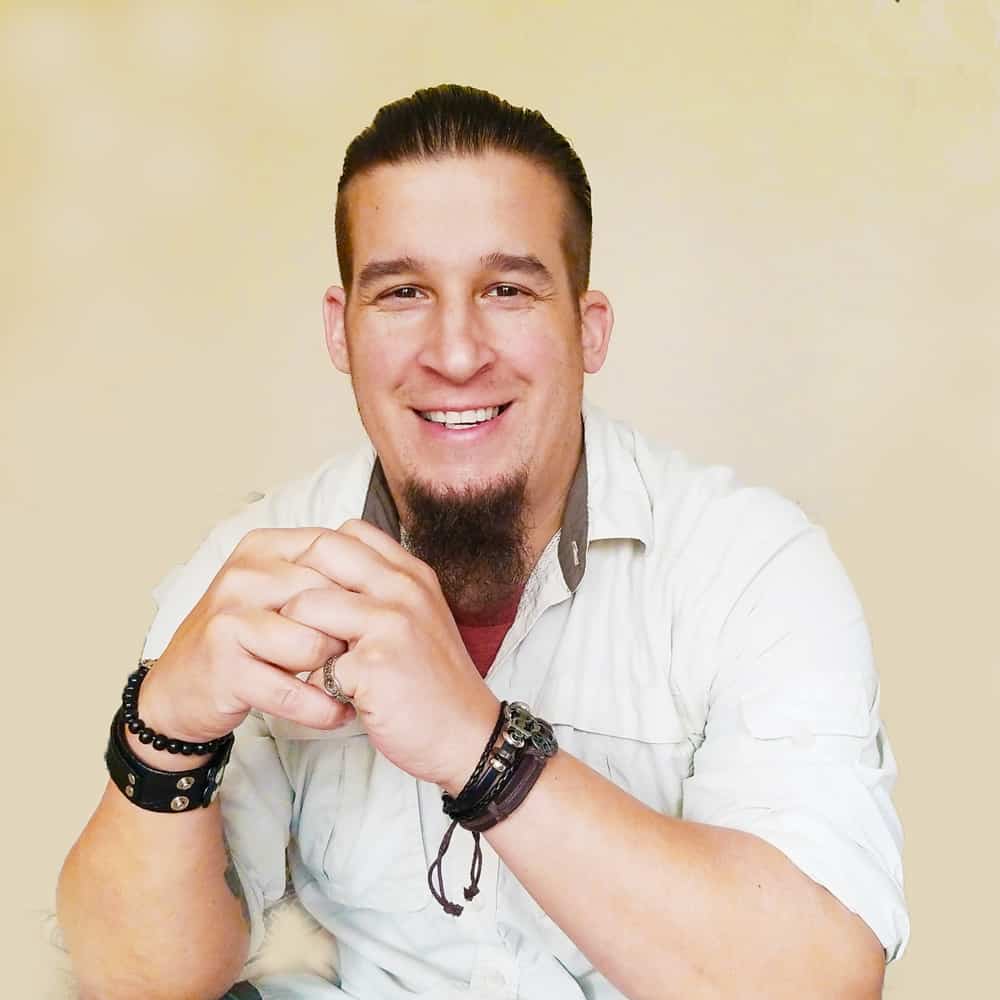 Full-time World Travel Writer who runs multiple websites and social media accounts. I have spoken at various conferences around the world. Some of my hobbies include adventure, fitness and new technologies. I am also a trekkie!