Big open areas, magical pathways, and glittering sky like you've never seen them before are all available to tourists in the Big Bend region of Texas. The highway extends in front of you as far as the eye can perceive and caresses the horizon's vivid blue backdrop. It offers undiscovered jewels and diverse culture with roots in Native Americans, Mexicans, and American cowboys, making it one of the best spots for enthusiasts of spectacular road adventures. This makes Big Bend Glamping one of the most sought-after ways to enjoy this area as you can immerse yourself in the landscape with amenities not found in traditional camping.
The spectacular Big Bend Glamping experience includes everything from trekking a desert gorge to finding a waterfall somewhere along a trail through woodland to spotting a pack of javelinas scurrying through prickly shrubs. Big Bend National Park was designated an International Biosphere Reserve in 1976 due to the bewildering variety of habitats it is host to, including rivers, creeks, mountains, and deserts. The region is home to a variety of animals, including bats, birds, eagles, deer, coyotes, black bears, and a few dozen mountain lions, who luckily are not often seen.
Glamping Big Bend is trending and there are numerous Texas glamping spots to choose from to explore the region and the national park. These included Texas yurts, cabins in Texas, Texas treehouses, and more. We have included some of our favorite Big Bend Glamping spots to book in this article. Make sure you book well ahead of time as these spots book up fast and you don't want to miss out on a once-in-a-lifetime opportunity to go Glamping in Big Bend.
List of Top Big Bend Glamping Locations
---
Location: Terlingua, Texas, USA
If you want some of the most magnificent views of the Big Bend, then there is no better stay than from Ten Bits Ranch. Your views will include a majestic sunrise and sunset, red rocks, endless stars in the sky, and the surrounding mountains. You can also explore more than five hundred acres of ranch land.
Ten Bits offers a luxurious Big Bend glamping experience as you will have satellite TV, heat, AC, WiFi, and more. There is a lot to do here, as you can hike, go to the shooting range, visit the caves, or just relax. So, whether you are looking to relax or go on an adventure, this will be the perfect place for you.
Recent Review: "This property was totally awesome! It was a little distance from many of the things we did, but was not disappointed at all. The rooms and facility were perfectly furnished and enjoyable. I would definitely recommend this for anyone wanting to be away from the crowds and wanting to enjoy beautiful sunsets and surrounding area."
Location: Terlingua, Texas, USA
Stay at this model rental in Fossil Knob Ridge, where you will find endless mountains, rustic adobes, desert vistas, ranch homes, and much more. The best part about this rental is that it is created from recycled shipping containers. An incredibly unique Big Bend Glamping option that will enhance your stay in Big Bend.
There is a bedroom, kitchen, dining area, bathroom, living room, and much more. If you want to relax near Terlingua Ghost Town, it doesn't get better than this stay. Be sure to check it out today.
Recent Review: "Off the grid, but close to Terlingua ghost town with some cool restaurants and bars. The road up is rocky and bumpy, much better in a higher clearance vehicle. Great location for sunrises, sunsets, stars, and Big Bend State Parks for hiking and mountain biking."
Location: Terlingua, Texas, USA
The StarGazer is located on private property of forty acres, where you can relax and enjoy the best views of the National Park. It is an Airstream with two air conditioners, heaters, a bathroom, and a kitchen. Remember that this location is ideal for a couple, which is why it is the perfect romantic escape.
You will be away from the hustle-bustle of city life, and you can enjoy the serene atmosphere with your significant other. If you love nature and want to get away from the city, be sure to check out Big Bend Glamping at StarGazer. You will create memories of a lifetime during your stay here.
Recent Review: "My wife and I enjoyed staying Stargazer very much. The property is very unique and has many special touches. The owners did a great job setting this place up. When we go back to Big Bend we will definitely stay here again."
Location: Study Butte – Terlingua, Texas, USA
Get away with your significant other in the times geodesic dome in Terlingua Ranch, where you have five acres to yourself. Here, you will get to discover American history, art, golf course, old West lore, and much more. If you love the outdoors, then this is the perfect Big Bend glamping experience for you.
Come here to cool off or warm up next to a fire. After that, lie down and gaze upon the Milky Way as you see the sky filling with endless stars. It doesn't get more beautiful than being in the desert and looking at the best of nature.
Location: Study Butte – Terlingua, Texas, USA
Desert Pearl is only a few minutes away from Big Bend and is a unique airstream. It includes a sink, coffee maker, queen bed, mini-fridge, seating area, dining table, outdoor deck, and much more. There is also a bathhouse outside for you to clean up with an outdoor shower.
It is the ideal base if you want to explore Ghost Town. Besides that, you will also find many bars and restaurants within walking distance. So, don't forget to book your stay here to enjoy the Big Bend Glamping and great desert life.
Recent Review: "The perfect place to stay while visiting the Big Bend region! Inside the trailer is nice, clean, and there is plenty of room for two. The property is unique with well done desert landscaping, an outdoor shower, and a nice deck with sun shades to enjoy the scenery (best for sunrise!). The property manager was very helpful with our reservation, quickly answered any questions that came up, and went out of their way to make our visit special. We would certainly visit again in the future!"
Location: Brewster County, Texas, USA
If you want 360 mountain views, you must book your stay at this off-grid container home. It is located in a secluded place on Terlingua Ranch, where you will find the best sunrises, sunsets, night skies, mountain views, and hundred million-year-old fossils. Of course, while you are here, you will have the most comfortable bed to rest in after everything.
You can have a BBQ, access to the pool, or begin exploring the vast area around the container. The best part is the privacy of the container, as you will have it all to yourself. So, if you are thinking of a small Big Bend Glamping getaway in the middle of the desert, this is it.
Location: Terlingua, Texas, USA
Do you want to look at the unobstructed night sky from the best location in Texas? If you do, then this off-grid adobe dome near Big Bend is the perfect place. The horizon is also unobstructed, which means you will see some of the most beautiful sunrises and sunsets of your life.
There is a functional kitchen, a bed that sleeps two, a pallet couch, a fan, and much more. A heater is also there in case it gets cold during the winter season. If you have always wanted the best sky views, be sure to book your stay at Domeland.
Location: Terlingua, Texas, USA
Lil' Al's barndominium is located on a private property of ten acres, which is fifteen minutes away from the National Park. It is surrounded by some majestic mountain views where you can enjoy sunrises and sunsets. If you want a simple yet private space that offers you access to the main attractions in the region, then you must stay here.
You will have the entire property to yourself, and you can explore the surrounding areas whenever you like. Shops and restaurants are also a few minutes away for you to get anything you like.
Recent Review: "Very clean, cozy place. Large outdoor patio with seating, grill, and a beautiful view. 10 minutes from big bend. When we had a question the host responded to our question immediately. The unit is a little over a mile down an unpaved path off the main road. It was a little bit rough, but my compact car was able to make it. A higher clearance vehicle would've been nice though. Would definitely stay again if I'm back in the area."
Location: Terlingua, Texas, USA
Enjoy a unique experience in the heart of Terlingua at Ocotillos Village A-Frame. Their wooden A-frame tents have plexiglass ceilings for you to enjoy the stars at night and the mountain views. The view is incredible, and you will get to see an amazing sunrise.
Remember that while the structure is enclosed, it is still an outdoor camping experience. That is why it is only for outdoor adventure lovers. Once you go Big Bend Glamping here, you will not want to go anywhere else.
Location: Terlingua, Texas, USA
Are you someone that doesn't want to compromise on luxury while going camping? If that is the case, then this luxury yurt will be the ultimate glamping experience for you. The yurt is private and includes a king-sized bed, full bathroom, seating, kitchenette, fireplace, dining table, deck, telescope, and more.
You can relax and unwind here, or you can enter the Big Bend National Park for some great outdoor adventures. Whatever you choose to do, you will love your stay here. So, don't forget to consider this luxurious yurt for your next Big Bend glamping stay.
Recent Review: "The Local Chapter was simply amazing. Not one detail was overlooked. A true oasis in the desert. This is luxury you would not expect to find in this area."
Big Bend Glamping Pinterest Pin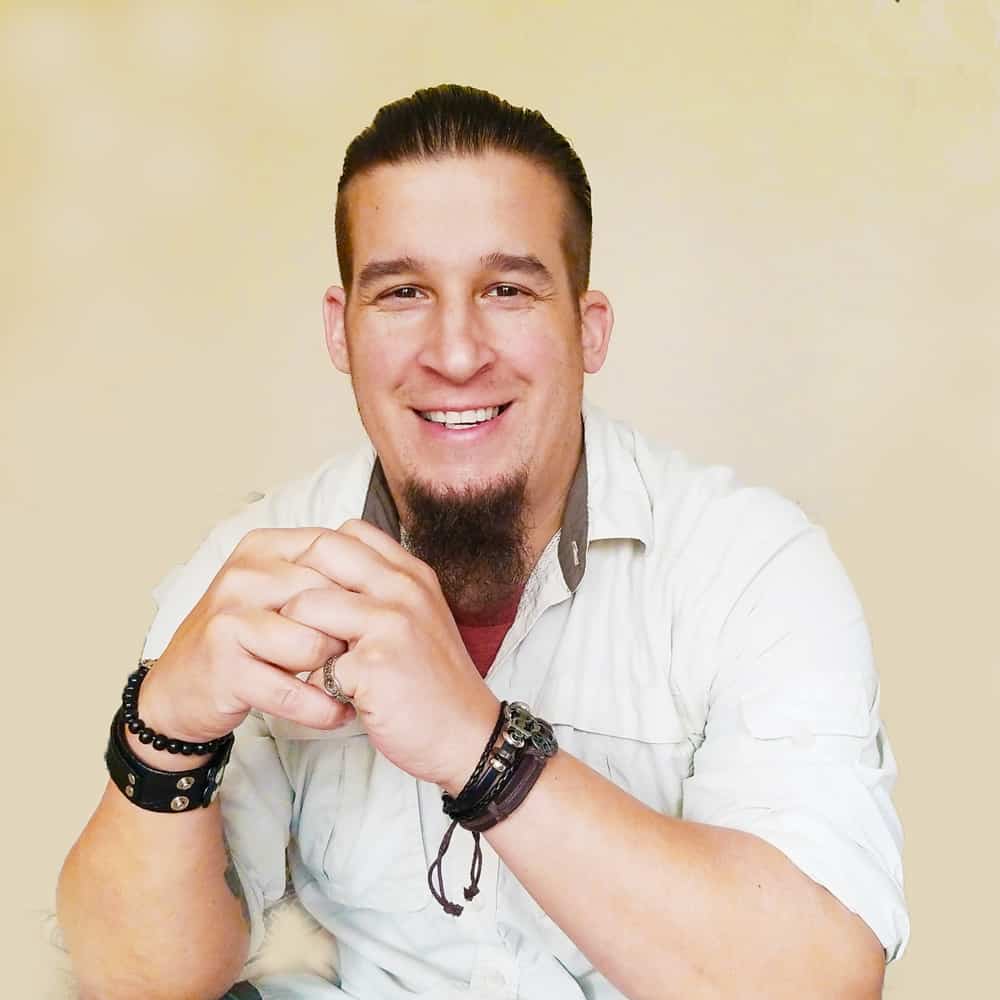 Full-time World Travel Writer who runs multiple websites and social media accounts. I have spoken at various conferences around the world. Some of my hobbies include adventure, fitness and new technologies. I am also a trekkie!