(Recently Updated March 2023)
North Wales is a remarkable area to explore in the UK, including the popular Snowdonia National Park. What better way to enjoy the area on holiday than booking one of the awesome Glamping Yurts North Wales has to offer. We have compiled a list of some of our favorite North Wales Yurts available to make it easier for you to plan your next holiday in style.
Before we go into the list of awesome Yurts in North Wales, let's go over some of the top things to do while Yurt glamping North Wales. Of course many of these properties on our list are destinations on their own. You could just relax and unplug, explore the property and immerse yourself in the nature and views with a good book in comfort. For those who are looking to explore the North Wales region as well, here are some things to check out.
Read more about Glamping in Wales and the UK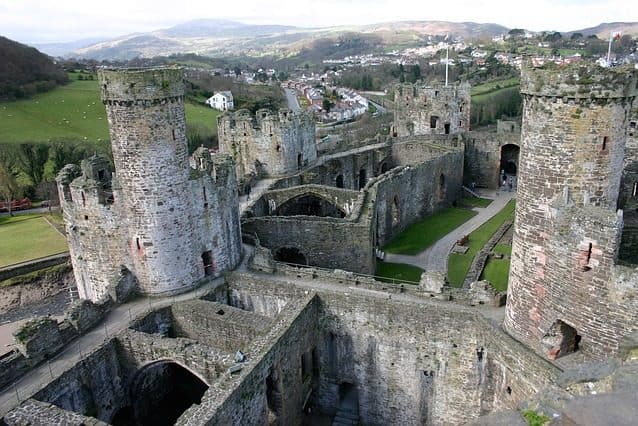 Things to Do When Glamping in a North Wales Yurt
Snowdonia National Park
Snowdonia National Park is one of the go-to areas in North Wales for outdoor activities. Lots of trails for both hiking and mountain biking, plus over 100 lakes or various water sports including fishing. Glamping near Snowdonia is an adventure all its own.
Welsh Castles and Towns
Historic towns and castles in North Wales are a blast to explore. Some of the most popular and picturesque towns to visit are Conwy, Wrexham, Abersoch, Ruthin and Llandudno. If you are going castle hunting you will want to put Rhuddlan Castle, Gwrych Castle, Beaumaris Castle, Caernarfon Castle, Harlech Castle and of course Conwy Castle on your list.
Isle of Anglesey
The Isle of Anglesey is the Northwest region of North Wales. It is known for some amazing coastlines and beaches, lighthouses, the Beaumaris Castle and lots of cycling routes. It is connected to the mainland by a 19th-century suspension bridge and the Britannia Bridge. Make sure to check out Holyhead Mountain, the South Stack Lighthouse and Cemlyn Bay as well.
List of Glamping Yurts in North Wales
---
Welcome to Hapus Yurt, a peaceful and isolated glamping spot for families and friends looking for a unique outdoor adventure. This peaceful spot near major sites offers stunning views of the mountains and valley below, making it suitable for summer and winter excursions.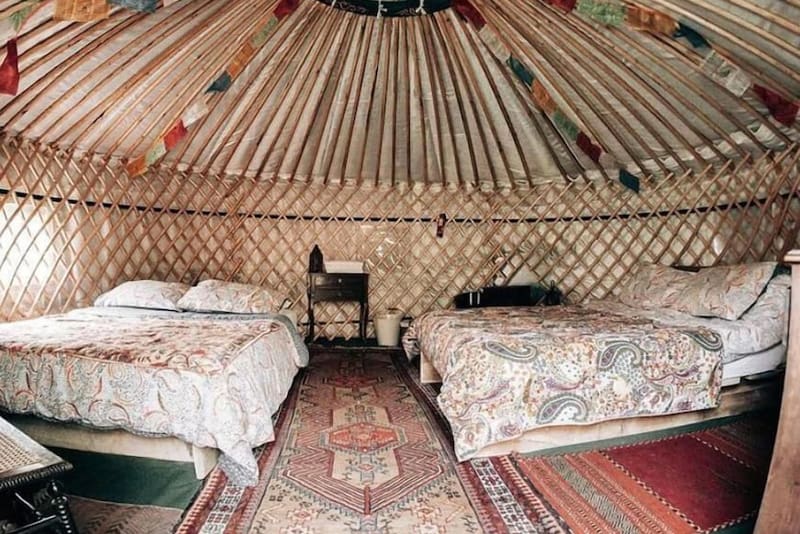 Hapus Yurt has two big Mongolian yurts and a barn-turned-kitchen. Each yurt and the barn kitchen have log burners to keep you warm, accommodating up to 9 people. The smaller yurt is in a gorgeous garden, while the bigger has a fully equipped bathroom. Central heating, a fire pit, a Barbeque, and access to the garden, forest, and river are also available.
With Snowdonia National Park, Zipworld, and local beaches nearby, Hapus Yurt is convenient to many activities. The powerful internet connection and well-equipped self-catering kitchen assure a great stay. Hapus Yurt offers an amazing experience connected with nature and appreciating Conwy and its environs with 2 beds and 2 baths.
Ty Crwn Bach Idris is a magnificent yurt with a double bed, a double couch bed, with stunning views that sleeps four. Linens, wall hangings, carpets, and fairy lights make this eco-friendly retreat wonderful.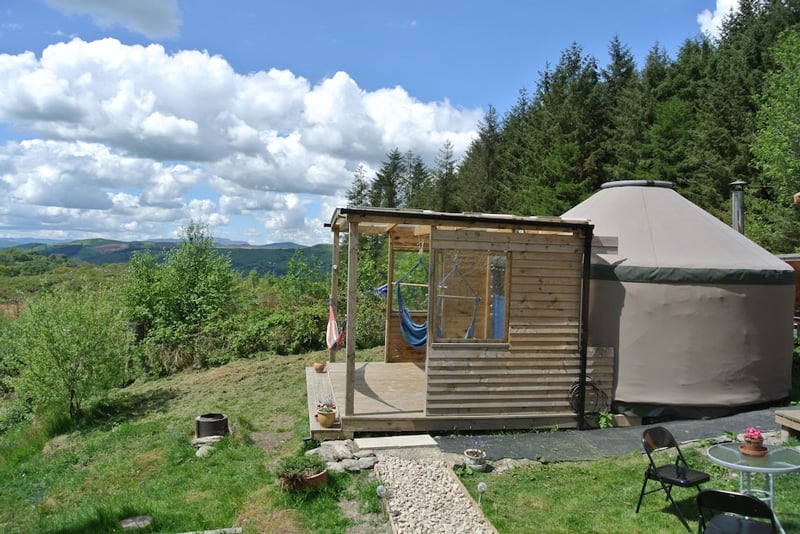 Visitors get full use of a neighbouring log cabin with a gas stove, electric fridge, toaster, and hot/cold water sink. The cabin has a dining area, electric shower, flushing toilet, and washbasin. A compost toilet and outdoor cooking area make eco-living real. The yurt has a wood-burning cooker for cooking or boiling water.
Ty Crwn Bach Idris uses reused, repurposed, and upcycled materials whenever feasible for sustainability. The yurt has renewable-energy-powered outlets and low-energy lights. The insulated floor and walls keep the room warm in winter, while the clear round glass window and south-facing stable door give ventilation and natural light in summer.
The covered deck has grassy spaces for BBQs, fire pits, and sitting. Staying at Ty Crwn Bach Idris reduces carbon emissions and helps the environment.
Explore the picturesque Mawddach estuary while staying in a small, family-sized Mongolian Yurt nestled in a romantic forest refuge. This tranquil getaway has breathtaking vistas and walking paths just outside your door. Absorb yourself in nature by sitting around the campfire, gazing at the beautiful night sky, or simply listening to the noises of the surrounding woods.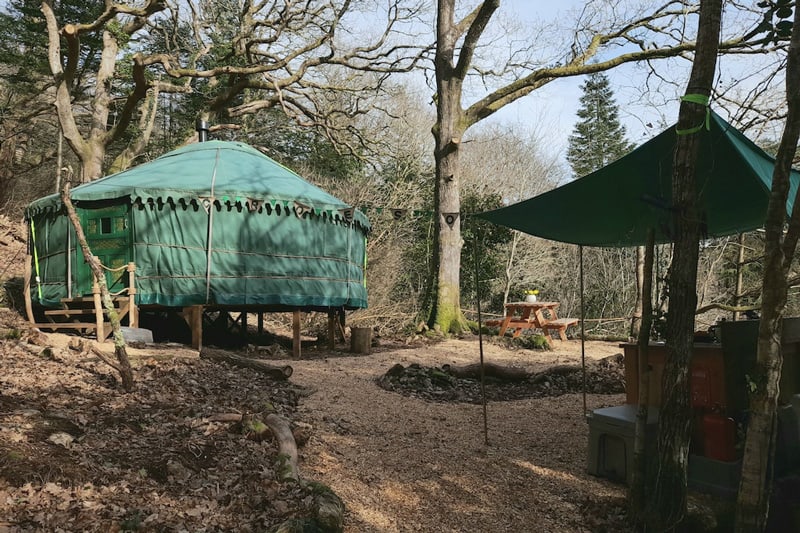 Adventures in the woods allow children to freely explore and engage their imaginations. For your convenience, all bedding, linen, and the first load of firewood are included. Guests also have access to a fully-equipped outdoor kitchen and a separate luxury bathroom, ensuring a relaxing and restorative stay. Enjoy the grandeur of the Mawddach estuary while rejuvenating in this wonderful forest hideaway.
Best for: Couples, Solo, Small Family
Relax and reset in this handmade wooden Yurt in North Wales. Experience the Welsh farm life with fairyland-style meadows and woods. There is a small lake you can swim or paddle a boat in as well. Collect eggs and veggies from the farm for breakfast. Take in the wonderful views and the beach is just two miles away. The rustic North Wales UK Glamping Yurt has everything you need to make it a home base for exploring the area. The yurt has a wood stove, sink, gas cooker, double bed and two single beds.
Best for: Couples, Solo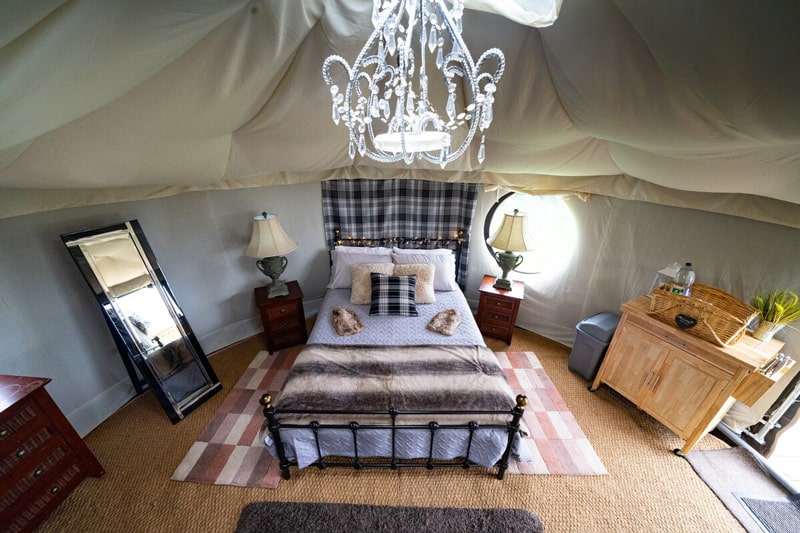 Situated within the Snowdonia National Park this 50-acre hillside farm is perfect to unwind and experience a glamping yurt in North Wales. The cozy yurts on this property offers so much including stargazing, outdoor cooking, fresh farm eggs and a jacuzzi to name a few. This is a great getaway for couples and families. Explore Snowdonia knowing you have an amazing and comfortable place to call home each night.
Best for: Couples, Solo, Small Family
Imagine yourself sitting in your own wood-fueled hot tub with amazing views of the Snowdonia Mountain range. After your soak, you can sit by the campfire and roast some marshmallows before heading into your traditional Mongolian Yurt. The yurt has a double bed and 2 sofa beds. You are also provided your own bathroom with shower, loo and hand basin. There is a communal kitchen area and you have a BBQ outside the yurt as well.
Best for: Couples, Families and Groups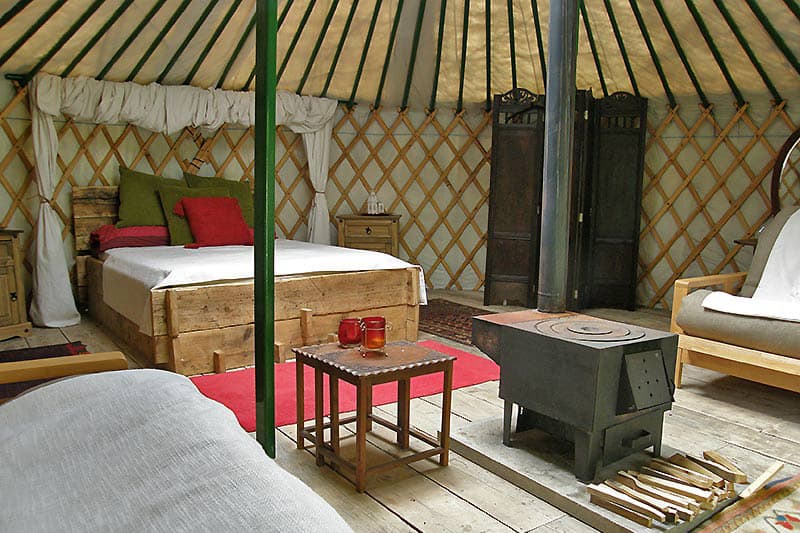 Go yurt glamping in North Wales in luxury with Cae Wennol Luxury Yurts. Enjoy a romantic weekend or refresh your mind on this 16-acre family-run smallholding. They have 3 yurts to choose from that all overlook beautiful eco ponds. The Seren Yurt is perfect for couples or a solo Welsh getaway. The Heddwch and Celynnin Yurts are both great for families and sleep up to 6.
All the yurts are decorated and have a log burner in them. There is access to a communal rustic kitchen with a cooking and eating area, and there are loos and showers. Each Yurt has it's own loo. Located at the edge of Snowdonia National Park and only a few miles from the medieval walled town of Conwy.
Best for: Couples, Solo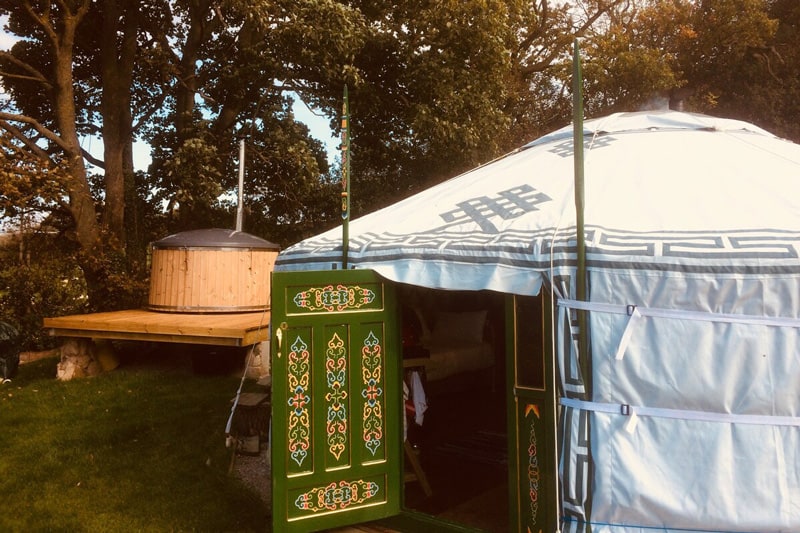 Prepare for a digital detox in this traditional Yurt in North Wales. Take in the Welsh countryside as you soak in a wood heated hot tub. Snuggle up to the wood stove inside or the raised firepit outside. The Yurt itself has a king bed and a single bed. They even provide a guitar and a telescope to enjoy stargazing even more. You also have private access to a walk-in rainfall shower plus a bathroom in a wooden cabin next to the yurt. The market town of Mold is 10 minutes away plus tons of outdoor activities to do on your holiday from here. Bring a torch as there is no electricity and it meant to truly unplug.
Best for: Groups or Large Family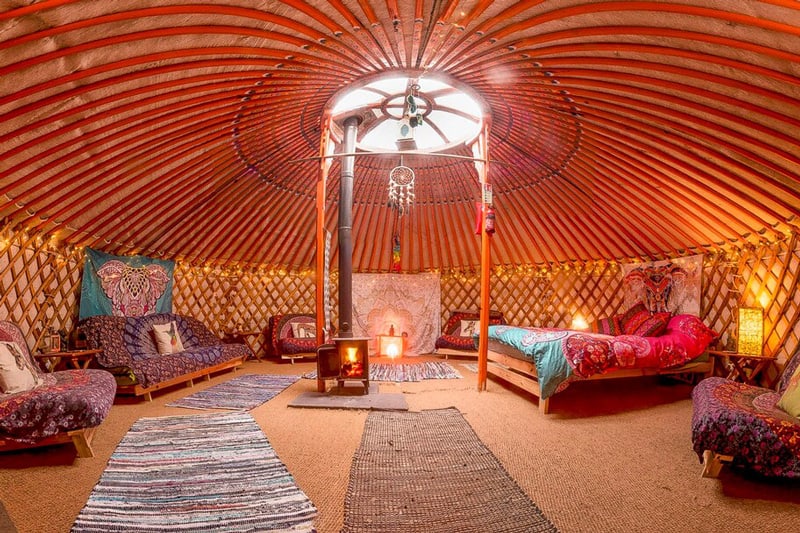 If you have a group or large family that you are having a Welsh getaway with then this is the place for you. This property has a large yurt that sleeps up to 7 guests and a smaller yurt that sleeps up to 4 guests. Each yurt has a cabin next to it with kitchen and bathroom facilities. The property is situated right along the North Berwyn Way walking route. Feel free to roam the area, collect firewood to roast marshmallows or collect some fresh eggs for breakfast. The whole place is powered by renewable energy sources and Wifi is available.
---
Yurts North Wales Pinterest Pins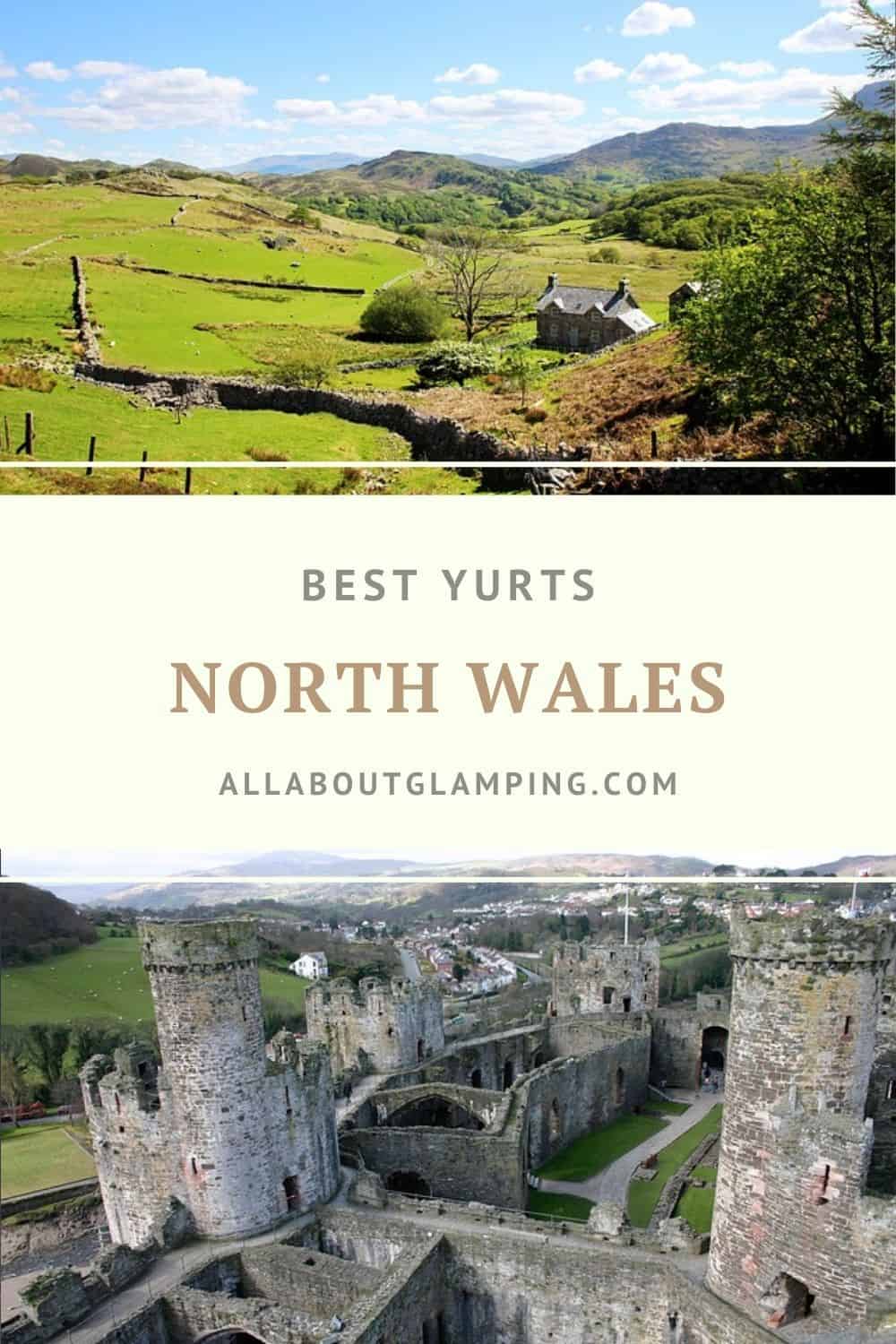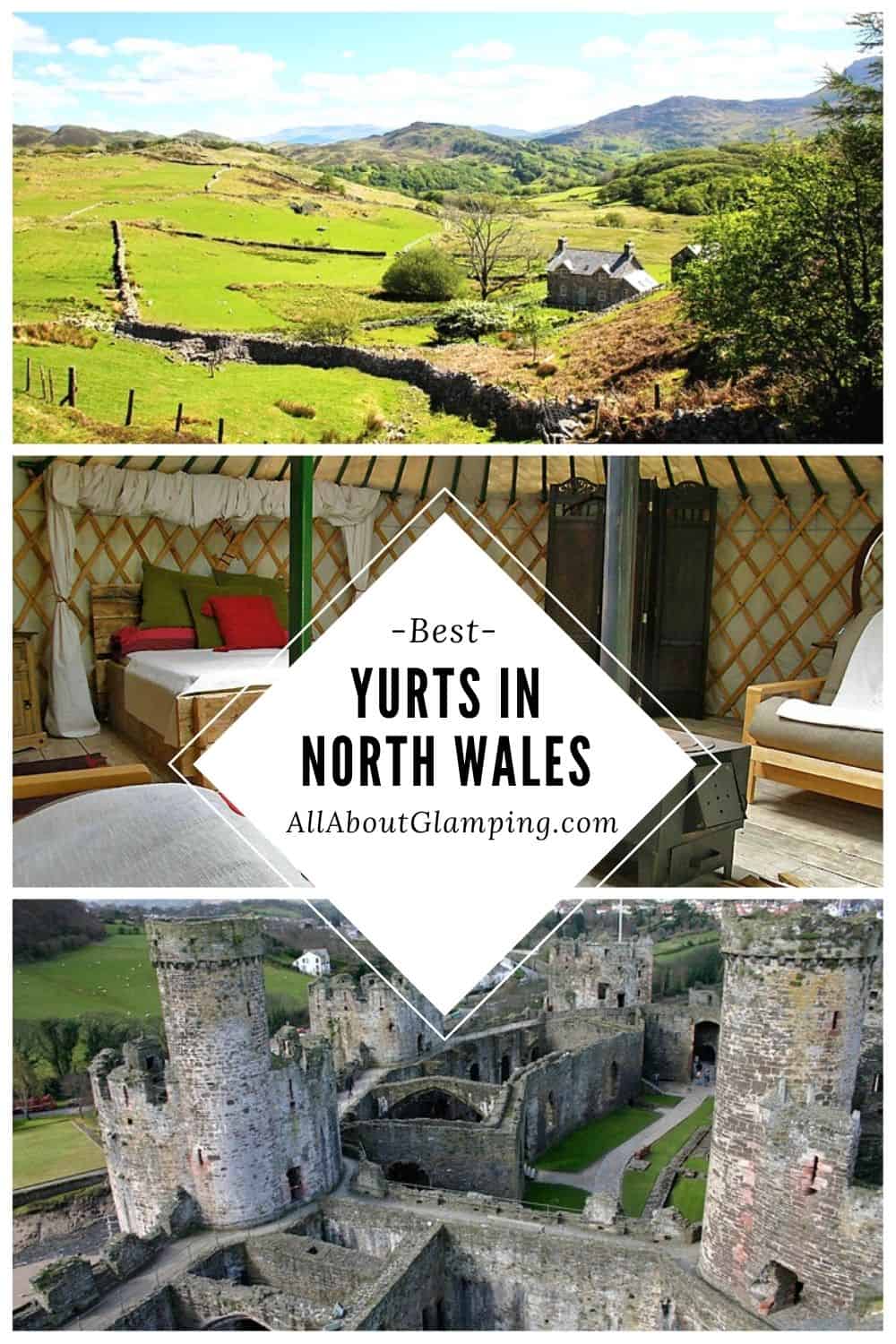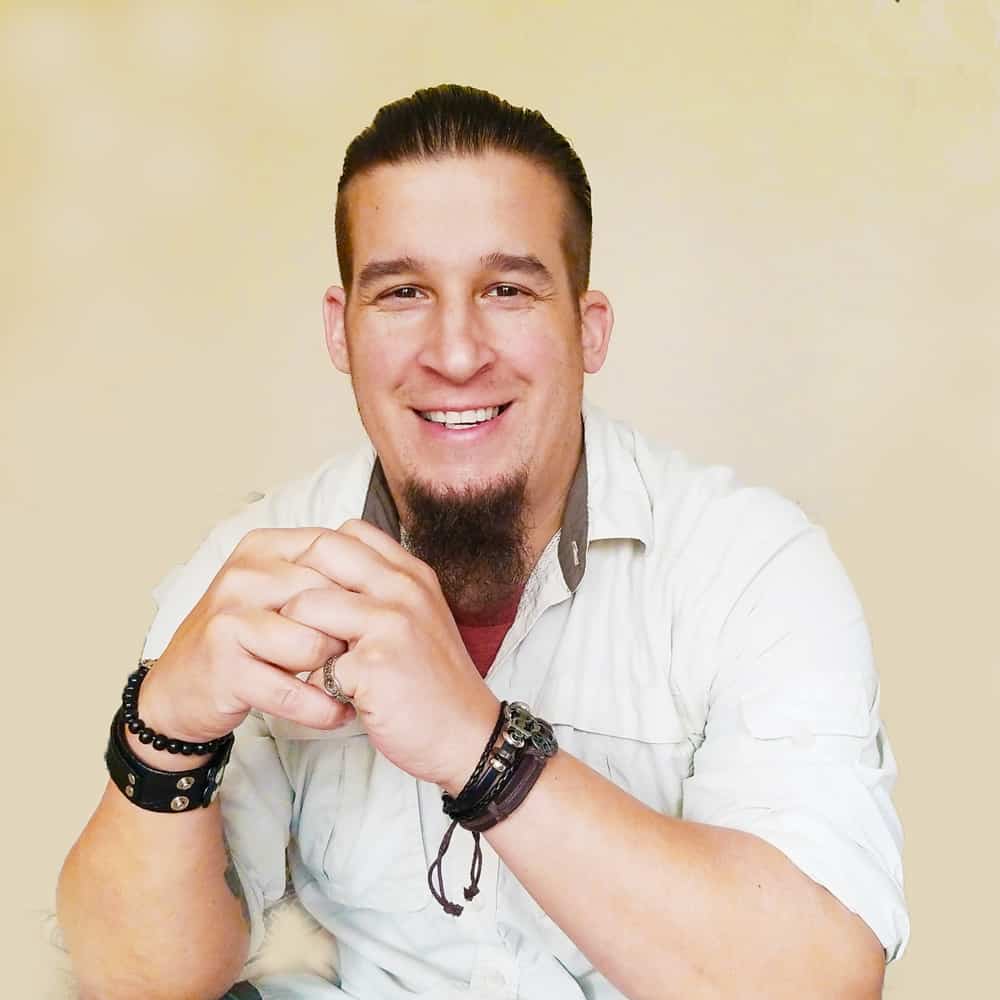 Full-time World Travel Writer who runs multiple websites and social media accounts. I have spoken at various conferences around the world. Some of my hobbies include adventure, fitness and new technologies. I am also a trekkie!