Yucca brevifolia, an enduring symbol of the Mojave Desert in Southern California, may be the namesake of this national park east of Los Angeles, but it's far from the only thing to see at Joshua Tree. The stony terrain makes it one of America's rock-climbing meccas, with dozens of trails open for hiking, biking, and horseback riding. The arrival of spring heralds a carpet of wildflowers. Thanks to the crystal-clear desert night sky, the park is also a haven for stargazing. This is why Yurts in Joshua Tree is a popular Joshua Tree Glamping accommodation type.
As it descends from the peaks into the Coachella Valley near Palm Springs, the park encompasses parts of two distinct deserts: The Mojave and the Sonoran. These two desert systems separate California's southernmost national park into two arid ecologies with vastly different appearances. The difference between them comes down to one thing: elevation. Staying in a Joshua Tree Yurt provides comfort and solitude with nature.
Visitors can only enter the park through three points: Yucca Valley in the west, Twenty-nine Palms in the north, and Cottonwood Springs in the south. The main Visitor Center is located outside the park in Joshua Tree, a nearby town. Park Boulevard runs from the visitor center to Lost Horse Valley in the park's heart. Three short interpretive trails (Hidden Valley, Barker Dam, and Cap Rock) provide an excellent introduction to the park's natural and human history. Check out one of these amazing Yurts in Joshua Tree and explore this awesome landscape.
Other parks you may be interested in Glamping at:
The Top Yurts in Joshua Tree
---
A fully set up yurt tent with a queen bed air mattress, ground rolls for stargazing or yoga, clean sheets, pillows and blankets, side tables, flashlights, battery-powered lanterns, a propane grill, a propane fire pit grill, cooking and eating gear, a cooler with cold packs or ice, a full 20lb propane tank, a Bluetooth portable speaker, a folding picnic table, folding chairs, a water jug for cooling off or washing (Common area is not available due to Covid). The price of a yurt is based on two people per yurt.
You can bring up to six people in your gear rental, but you must pay an additional $25 per night per person for air mattresses, sheets, pillows, and sleeping bags. For groups larger than two, another 2-person tent is available upon request at no additional cost. Larger groups are welcome; please call ahead to make a reservation. No more than six people may camp in one gear rental accommodation without prior arrangement. This restriction is in place to ensure that the facilities are not overused during the evening.
Pricing for a yurt:
Weeknights (Sunday – Thursday): $95 / night for 1 or 2 guests
$125 per night for 1 or 2 guests on weekends (Friday and Saturday).
Per stay, there is a $40 flat cleaning fee.
Extra bedding, kitchen equipment, and lighting are included in the $30 per night/guest rate for more than two people groups.
Electric Yurts In Joshua Tree with a Pool
This is the ultimate "Yurt" adventure! HGTV Showcased: Traditional camping is elevated to a new level with the Castle House Estate Electric Yurt Tent, located in the heart of Joshua Tree National Park and just minutes from the entrance. This one-of-a-kind medieval compound combines indoor and outdoor living to focus on entertaining. The Castle House Estate is set on eight beautiful acres, surrounded by thousands of acres of undeveloped land. Unlike the others, this yurt is electric (it has power!).
Each yurt has been meticulously designed with the high-end traveler in mind. The woven carpeted floors are adorned with oversized plush floor pillows. A private fire-pit and a queen-sized bed with 1600 thread count sheets are included.
The compound is GLAMPING at its best, and we hope you'll be able to join us. Showers are located outside, just like at a traditional campsite, and are a must-do while on the property. There are separate restrooms with running water, flushable toilets, and urinals.
Other things to keep in mind, The Castle House Estate provides a minibar. Pizza, homemade cookies, snacks, and beverages are all available.
In this 20′ yurt, curated in a Moroccan theme and set inside a 12-acre portion of a volcano vortex, you can transcend your meditative mind and atone. Wake up to a breathtaking view of an ancient lava butte, relax in a hammock under a Joshua Tree, or watch the sunsets from the shaded deck. Guests will have access to a 20′ away shower/toilet facility and shaded benches next to the horse arena with a BBQ, microwave, and electrical outlets. The earth's powers are all around you, and it's up to you to channel them.
The yurt is located near the 1-acre horse arena office at the front of the 12-acre property. The arena office is equipped with a refrigerator, microwave, toaster oven, coffee, a grill, and plenty of shaded seating. The nearest hot shower and toilet are 20 feet away from the yurt. Some cell phone services, such as t mobile, are available here. Otherwise, you'll have to use the red house's Wifi. In the yurt, there is no electricity to keep your vibrations high. For lighting, a lantern is provided.
28 Palms Ranch is located in the California region of Twenty-nine Palms and offers free private parking.
All accommodations include a patio with mountain views, a fully equipped kitchenette, and a private bathroom with a shower. At the tented camp, guests have access to a barbecue. 28 Palms Ranch is 9 kilometers from Boy Scout Trail, and Forty-nine Palms Oasis Trail is 11 kilometers away. The nearest airport is Palm Springs International Airport, 80 kilometers away from the hotel.
Location
The venue is nearly 8 miles from the center of Twenty-nine Palms. Palm Springs International Airport is 35 miles away from this villa.
Rooms
A patio, coffee and tea-making equipment, and a dining area are all available in the room, and a shower, bath sheets, and towels in the bathroom. Linens and hypoallergenic pillows are provided in each room.
Internet
There is no access to the internet.
Parking for visitors
On-site parking is available for free.
Purty Yurty and Mini-Me are two yurts in Joshua Tree desert designed to provide the ultimate glamping experience for up to four guests.
This is a truly unique and magical experience if you're looking to relax and connect with loved ones (or enjoy some alone time) in comfort and nature.
Do you need to get away from it all and unwind in the great outdoors? Stay here if space is available; reservations can be made up until midnight on check-in. If you want to rage and party in the desert, this is not the place to go. Watch stunning sunrises and sunsets, stargaze, and enjoy some peace if you need a break from the stresses of daily life.
They only accept bookings with verified government ID, so if you don't have it already, please do so, and you'll be able to book right away. You can go to the yurt(s) and check in whenever you want, as it is a self-check-in space. Read your confirmation email from Airbnb or look at the itinerary within the Airbnb app, which will include the house manual and self-check-in information.
Relax near downtown Joshua Tree in the quiet desert under the stars! Stay in a yurt with a queen-size bed and a wood-burning stove—outdoor propane bbq kitchen with a sink to prepare meals in the glampiest way possible. To make your stay as comfortable as possible, we have patio furniture, a fire pit, and a porta-potty.
Magical Yurts in Joshua Tree Pinterest Pin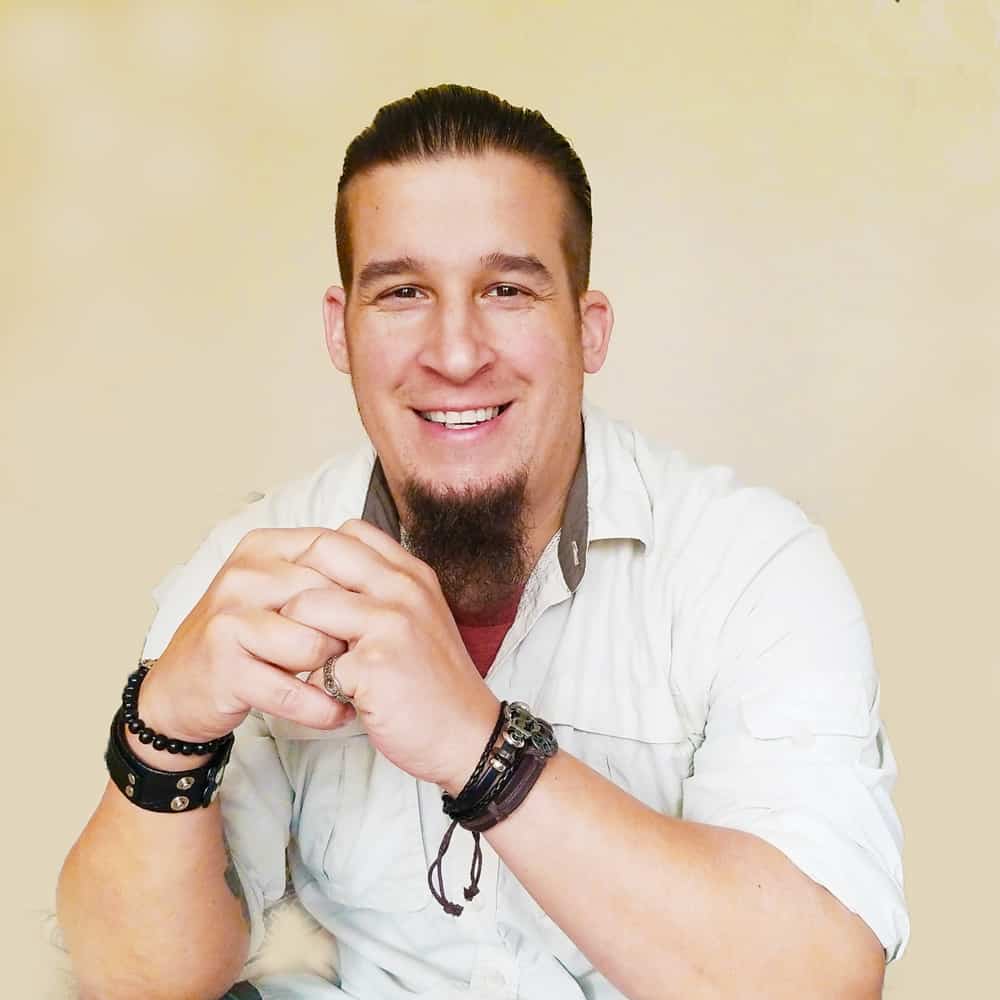 Full-time World Travel Writer who runs multiple websites and social media accounts. I have spoken at various conferences around the world. Some of my hobbies include adventure, fitness and new technologies. I am also a trekkie!